SDABJ: Dedicated to Building Community, Improving Coverage of Black San Diegans
In honor of Black History month, we're dedicating our February newsletter to our friends at the San Diego Association of Black Journalists. Thank you for always supporting our chapter and for your dedication to the San Diego region.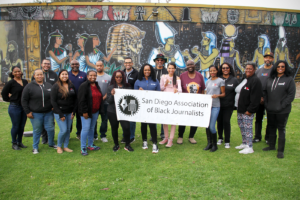 Written by Andrea Lopez-Villafaña, Chapter President
More than two decades ago, a group of reporters at The San Diego Union-Tribune set out to form a group for Black journalists that would not only provide its members with tools and opportunities necessary to further their careers, but also build a sense of community among those in the industry.
Today, the San Diego Association of Black Journalists is celebrating 22 years of service to local journalists. The chapter is a key journalism leader in San Diego. Its work has been recognized by the National Association of Black Journalists twice for its commitment to nurturing young journalists and for its advocacy work.
Jerry McCorrmick, founding president of SDABJ, said that one of the reasons for creating the group was to give Black journalists a family in San Diego, given that the city's Black population is so small — 6 percent. According to a recent survey of 11 local newsrooms, less than half employ Black journalists.
"I wanted to create a group where we were family away from your family and that's always been the heart of SDABJ," McCorrmick said.
The chapter organizes several events throughout the year, but it's most known for Pro for a Day, a journalism bootcamp for college students. The event is centered on exposing young journalists to the business through mock press conferences, panels and more. It has also given out more than $70,000 since the group's foundation to students.
The other reason was to uplift the voice of Black residents.
"We want to show that we got San Diego covered," he said. "Even though we are a small population, our voices can be loud and can be heard."
He said San Diego is lucky to have several journalism groups working to tell the stories of its diverse communities. There are stories that would go untold without them.
"Our little mantra is, 'We are the little chapter that could, we are also the little chapter that does,'" McCorrmick said. "We work really hard but we get big things done. The fact that we are still around 22 years later is a testament to everyone's commitment."
SDABJ is accepting applications to its 2022 scholarship through March 25. Donations are welcome to support the group's efforts. If you are interested in learning more about SDABJ click here.
---
SDABJ Member Spotlight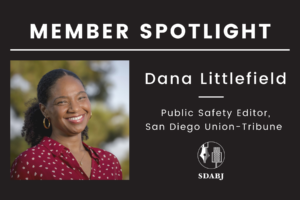 By David Hernandez 
Every month, we introduce you to one of our talented chapter members. Since we are dedicating this month's edition to SDABJ, we're highlighting one of their own members.
Dana Littlefield, San Diego Union-Tribune public safety editor 
Q: You were a reporter for many years. Now you are an editor. What was the transition to editor like?
A: To be frank, it wasn't an easy transition. I have always been grateful for the reporters I've worked with, but there were many changes to my team in the beginning: retirements, people moving to other beats, people being moved from other teams to the public safety team without much consultation, the night reporter position was vacant for several months. It was difficult for all involved.
On top of that I had to learn how to be an editor – how to make positive contributions to a story without completely taking it over or being hesitant to point out something that needed changes for fear of offending the reporter. I also had to learn to be a manager: It is difficult to manage the needs of many individuals – at one point, it was a team of seven reporters – while trying to meet the needs of the company. I also had other managers, at the time, who were watching and weighing in on what I was doing. It was a lot to juggle. And most of that has little to do with the news coverage itself.
Q: What is it like to oversee coverage of crime, policing and the criminal justice system at a time when there is a lot of attention on these topics?
A: I always enjoyed covering cops and courts – mostly courts – as a reporter. I covered state courts for about 15 years. It made sense that if I were to become an editor, this would be my area of focus. I have always tried to do stories on criminal justice reform, and I have written much about policing – particularly after the death of Michael Brown in Ferguson, Mo. But like many people of my generation, I had never seen anything – in terms of scale – like the reaction and response after the death of George Floyd in Minneapolis. I took my responsibility of overseeing much of that coverage locally in 2020 and beyond very seriously. I still do. In some ways, my perspective is different as an editor than it was as a reporter. I am tasked with seeing the broader scope of what it is we cover – not just a single story or series of stories. I need to look at the totality of what we cover and make sure it's accurate, balanced and fair.
Click here to read our full conversation with Dana Littlefield.
***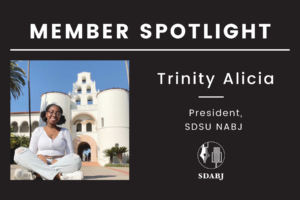 By Antonio Marquez, Committee Member
We also spoke to the current president and co-founding member of San Diego State University's NABJ student chapter: Trinity Alicia!
Q: What does this position mean to you as a journalist and woman of color?
A: It means a lot. We founded the chapter last academic year and I came in as the founding vice president. Most universities have a chapter, but we didn't. So when we decided to bring it, it was a moment of Black pride because we were saying, "Black journalists matter at SDSU."
Q: This is the first time there's been an NABJ student chapter at SDSU. How do you feel about that?
A: I was initially shocked because I was like, "Where is the representation? Where is the appreciation for Black journalists?" Yes we do have the Daily Aztec, yes we have KCR, yes we have SPJ and we have NAHJ as well, but what about the Black people? What about the Black journalists that are here and ready to put in the work and to be recognized for the work? I just had a lot of questions. So when Aleah Jarin expressed interest in starting an NABJ chapter, I was like "yes, all the way on board!"
I would be remiss if I didn't mention Jerry McCormick because he has been talking about starting an NABJ chapter at SDSU for so long and we were able to make it happen, so I am very grateful for him and Aleah for getting it started."
Click here to read our full conversation with Trinity Alicia.
Chapter Events and News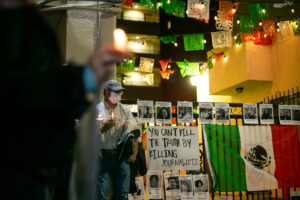 NAHJ San Diego-Tijuana chapter honors Mexican journalists who have been killed over the past couple of years at a vigil in front of the Consulate General of Mexico San Diego Office on Jan. 28, 2022. / Photo courtesy of Brittany Cruz-Fejeran
In case you missed it, our chapter held a vigil last Friday in honor of Mexican journalists who have been killed over the past couple of years, including the recent deaths of José Luis Gamboa Arenas, Margarito Martínez Esquivel and Lourdes Maldonado. 
Thank you to everyone that took time out of their day to honor our Mexican colleagues. We will continue fighting for our compañeros.
For more information, read the Union-Tribune's story about the vigil here. 
***
Interested in joining our board? The treasurer position is open for any active member. Chapter VP Samantha River is currently serving as interim-treasurer (We love you Sam!), but we'd love to welcome a new member onto the board. Please email [email protected] if you're interested. The commitment includes attending monthly meetings and providing financial updates to the chapter's executive board. 
Jobs and Internships
Multimedia Journalist, The San Diego Union-Tribune (San Diego)
Group Communications Officer, San Diego County (San Diego) 
Videojournalist, Associated Press (Los Angeles) 
East County Reporter, The San Diego Union-Tribune (San Diego)
Money Reporter, The San Diego Union-Tribune (San Diego) 
Freelance Journalist, KPBS (San Diego) 
Multimedia Journalist, KGTV (San Diego) 
Executive Producer, NBC 7 (San Diego) 
Chief Photographer, NBC 7 (San Diego) 
Editor, ecoRI News (New England)
Expert Journalist, Mississippi River Basin AG & Water Desk (Mississippi) 
Environmental Reporters, Report for America (Openings are across the U.S)
Members: Sometimes the hiring managers share these jobs with our chapter, so feel free to ping us if you plan on applying, we might be able to connect you with the manager if you have questions about the job/application. ?
And don't forget, NAHJ has a career center where members can upload their resume and search for potential employers. This service is available to members only. Join here. You can find the career center here. 
Editors and managers, have a job you'd like us to feature in our newsletter? Send it to [email protected] or tag us on social media.  
Thank You! 
This newsletter was written and edited by Andrea Lopez-Villafaña, David Hernandez, Antonio Marquez and Adriana Heldiz.