NABJ Student Member Spotlight: Trinity Alicia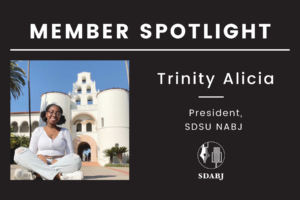 This excerpt originally appeared in the NAHJ San Diego-Tijuana February 2022 newsletter. 
By Antonio Marquez
We spoke to the current president and founding member of San Diego State's NABJ President Trinity Alicia!
Q: What does this position mean to you as a journalist and woman of color?
A: It means a lot. We founded the chapter last academic year and I came in as the founding vice president. Most universities have a chapter, but we didn't. So when we decided to bring it, it was a moment of Black pride because we were saying, "Black journalists matter at SDSU." 
Q: This is the first time there's been an NABJ student chapter at SDSU. How do you feel about that?
A: I was initially shocked because I was like, "Where is the representation? Where is the appreciation for Black journalists?" Yes we do have the Daily Aztec, yes we have KCR, yes we have SPJ and we have NAHJ as well, but what about the Black people? What about the Black journalists that are here and ready to put in the work and to be recognized for the work? I just had a lot of questions. So when Aleah Jarin expressed interest in starting an NABJ chapter, I was like "yes, all the way on board!"
I would be remiss if I didn't mention  Jerry McCormick because he has been talking about starting an NABJ chapter at SDSU for so long and we were able to make it happen, so I am very grateful for him and former chapter president Aleah Jarin for getting it started."
Q: How has Professor Jerry McCormick impacted you?
A: I feel like my relationship with Jerry started off professionally but now it's personal. I consider him family and I feel as though he has "Jerry's kids" and I am one of them, but he will tell me straight up what I need to be doing whether that is right or wrong. He will tell me if I need to keep doing more of this, he will tell me I need to keep doing less of this. 
From a mentor standpoint, he wants the best for me and he will make that known before he gives me his corrections or his criticism. I think when I took over as managing editor at the Daily Aztec, he was more hands-on with giving me leadership advice and how to run a newsroom as a Black person. Because there are not a lot of Black people at the Daily Aztec,   and we are still the minority, my leadership is going to stem from the fact that I am a Black woman and I need to be aware of that at all times. 
Q: If you could go back to your first semester at SDSU, what advice would you give yourself?
A: When I first stepped onto the SDSU campus, I knew that I needed to make an impact and I knew I needed to change the campus by the time I graduated. I would tell myself that the goal I set as an incoming freshman is going to be achieved through NABJ SDSU and you'll be the president. 
Q: What will you say to the next president of NABJ SDSU?
A: Within your leadership position you'll have your days where you feel you don't want to do it. You'll have your ups and downs, highs and lows, but you have to think about the bigger picture. Think about who it's for and what it's for? It is beyond yourself. 
Q: Given the lack of diversity in the journalism industry, what do you think about potentially working somewhere where there are not that many people of color in the newsroom?
A: I experienced that every day in the Daily Aztec newsroom and as a Black woman in leadership. I experience that on campus in my classes and after four years of it, I can say that I am pretty much an expert on how to navigate that. 
I feel like I have interracial relationships that are significant in my life where I know I am the only Black woman in that space or I know that my Blackness is significant and prominent in a space. I feel I am equipped because of my experiences at SDSU and at the Daily Aztec. I am ready to take it on