A TikTok Star Is Born
A local reporter is building a strong following on TikTok through open communication with his followers.
Written by Adriana Heldiz, committee chair
On a recent Monday night, Rigo Villalobos logged onto TikTok and began broadcasting live to more than 1,000 users.
Villalobos, an anchor at Telemundo 20, is used to being in front of the camera and providing San Diego viewers the latest news. But on TikTok, Villalobos gets the chance to do something different – he gets to engage with his followers from all around the world.
On this particular night, Villalobos and Meteorologist Ana Christina Sánchez explain how they use studio equipment to report the local weather. Viewers type in their questions in the comments section and Villalobos answers them in real-time.
"I always say that I'm going to stay on live for five or ten minutes, but then I end up staying for an hour," Villalobos said during a recent interview with NAHJ San Diego-Tijuana.
Villalobos' presence and strong following on TikTok isn't something he planned for. It happened by accident. He decided to make an account in early 2021 when he noticed his mom using the platform to watch funny videos. At first, Villalobos said he was just a spectator, but after a couple of weeks, he began making his own content.
Since then, Villalobos has accumulated more than 37,000 followers and gained around 88,000 likes on TikTok.
"This platform gives us the opportunity to have a sincere and direct conversation with those who support us and watch us at home," he said.
Aside from making TikTok versions of the stories he's reporting on by using in-app features such as the "green-screen" effect and text captions, Villalobos goes on live two to three times a week.
Sometimes he'll do it before the 11 p.m. news segment to give a quick preview of what news to expect. Other times he'll go live during the segment so his viewers can see how a show is produced in real-time. And if he has time, Villalobos will go live after the segment to answer questions.
While he's happy to discuss news-related topics, Villalobos doesn't limit the conversation.
"I think the key to why I've reached over 30 million followers has been the sincerity I've expressed to them," Villalobos said. "I talk to them, they send me messages and I reply, they ask me questions and I sincerely answer them," he said.
Through his TikTok lives, Villalobos says he's been able to learn more about his viewers who either live in San Diego or others who simply want to learn more about the region. Plus, he gets a chance to talk to aspiring journalists who want to learn more about his job, something he struggled to do when he was a student.
"I always wanted to meet journalists, but it was so hard for me to get in contact with them. And with this platform, it's so easy to connect with any journalist in the world," he said.
Villalobos has only been on TikTok for a couple of months, but he says he has already learned a lot about his audience and his role as a journalist.
"This platform has changed my perspective on how journalists communicate with the community," he said. "The community wants to see more than a news segment. Not only do they want to see the person in front of the camera reporting the news, they want to get to know the person who's telling them these stories. And I think that builds trust because it shows them, 'he's like me.'"
You can follow Rigo Villalobos on TikTok here.
***
You are currently reading the NAHJ San Diego-Tijuana newsletter. Thank you for supporting our chapter. We hope you'll enjoy the stories and resources we'll gather up for you every month.
Don't forget to subscribe to this newsletter if you haven't already. You can continue to support our work by becoming an NAHJ member. Sign up here.
***
Member Spotlight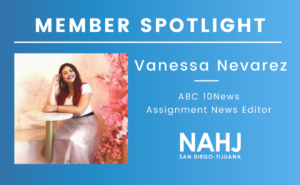 Written by David Hernandez, committee member
Every month, we introduce you to one of our talented chapter members.
Vanessa Nevarez, ABC 10News assignment news editor
Q: Tell us about yourself. Where did you grow up?
A: I grew up on the border of Tijuana and San Diego until my 20s, then I moved to San Francisco as a college transfer student. There, I started the first NAHJ student chapter in Northern California at SFSU and later joined the NAHJ Bay Area professional chapter. I have been an NAHJ member since I was 15 years old and proud. I see NAHJ as my familia because they literally saw me grow up. My NAHJ family extends past California, with ties in Los Angeles, New York, Miami, Chicago and Washington, D.C.
Q: Why did you decide to pursue a career in your field?
A: I realize as an adult that it is unusual to learn at 13 what you want to be for the rest of your life. When I was in middle school, I knew my passion was writing, and journalism was introduced through a school newsletter. The rest is history. I wrote a simple pop culture story on rock versus pop, saw people's reactions and was sold on being a journalist. Fast forward to now and that story on music genres evolved to covering student government corruption, city council drama and humanistic immigration stories. Who would have known?
Q: What do you love most about your job?
A: I was a print journalist in my formative years in journalism. Now as a news assignment editor, I love that I am able to push for more inclusive stories and coverage. I love that I feel like I am helping change the landscape of the newsroom with my very presence in the room. I am able to put context to Latinx/é stories and be the voice in my editorial meetings about my community.
I also love how challenging and non-routine it is. I never know what a day will bring to me as a news editor, and it pushes me to find solutions and think on my feet during breaking news.
Q: What song(s) are you currently listening to on repeat?
A: You know, I have any Bad Bunny song on repeat while I am washing dishes or doing my makeup, but the two other songs I have on repeat are Todo De Ti by Rauw Alejandro and Big Energy by Latto.
Q: How would you spend a weeklong getaway? Where would you go and what would you do?
A: Two words — Puerto Rico. My heart is split between Mexico and Puerto Rico. My love for Puerto Rico is so deep I always say I am an adopted Puerto Rican. Puerto Rico is such a beautiful, soulful destination with rich history and up until recently was very underrated by travel enthusiasts. P.R. has been my go-to getaway since 2009 before reggaeton became mainstream in the states. I would pack a picnic, drive the whole island past Carolina, go to a remote beach, and just stay there all day. Then at night go to "la Placita" and dance salsa outside in the humid air.
***
Chapter News and Events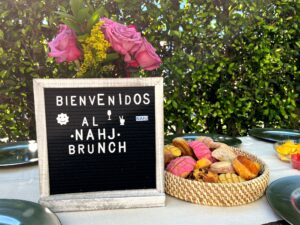 We'd like to welcome our newest NAHJ San Diego-Tijuana chapter and committee members: Ana Ramirez, Alejandro Tamayo, Roberto Camacho, Julia Wook, Clara Benitez, Sofia Mejias Pascoe and Anissa Durham! ?
Last week, we hosted a small gathering for prospective members and new members who have expressed interest in joining our committees. Thank you to everyone who attended. We can't wait to accomplish great things with such a talented group. If you are interested in learning more about our committees, please reach out to our chapter president, Andrea Lopez-Villafaña at [email protected].
We Want You to Help Improve The Diversity of Our Newsrooms
NAHJ San Diego-Tijuana is working with the region's journalism groups to design an event around diversity and equity in journalism and we'd like your input. The responses to this survey will help us better understand the types of events that will be most helpful for our members. Please complete the survey by March 18.
Join Our Board
The treasurer position is open for any active member. Chapter VP Samantha Rivera is currently serving as interim-treasurer (We love you Sam!), but we'd love to welcome a new member onto the board. Please email [email protected] if you're interested. The commitment includes attending monthly meetings and providing financial updates to the chapter's executive board.
Donate To Our Scholarship Fund
We are fundraising again for our scholarship program. Last year we gave out more than $3,000 in scholarships to a couple of talented journalism students. This year, we've increased our fundraising goal to $5,000. Want to help us make a difference in a young student's life? You can donate here.
Jobs and Internships
Education reporter, Voice of San Diego (San Diego)
Digital Producer, inewsource (San Diego)
Senior Digital Producer, inewsource (San Diego)
Group Communications Officer, San Diego County (San Diego)
East County Reporter, The San Diego Union-Tribune (San Diego)
Money Reporter, The San Diego Union-Tribune (San Diego)
Freelance Journalist, KPBS (San Diego)
Multimedia Journalist, KGTV (San Diego)
Executive Producer, NBC 7 (San Diego)
Chief Photographer, NBC 7 (San Diego) 
Expert Journalist, Mississippi River Basin AG & Water Desk (Mississippi)
Environmental Reporters, Report for America (Openings are across the U.S)
***
Members: Sometimes the hiring managers share these jobs with our chapter, so feel free to ping us if you plan on applying, we might be able to connect you with the manager if you have questions about the job/application. ?
And don't forget, NAHJ has a career center where members can upload their resume and search for potential employers. This service is available to members only. Join here. You can find the career center here.
Editors and managers, do you have a job you'd like us to feature in our newsletter? Send it to [email protected] or tag us on social media.
Thank You! ?
This newsletter was written and edited by Andrea Lopez-Villafaña, David Hernandez, Antonio Marquez, Nina Hall and Adriana Heldiz.