NAHJ San Diego-Tijuana 2021 Scholarship Celebration
The NAHJ San Diego-Tijuana chapter invites you to celebrate this year's scholarship recipients on Saturday, Oct. 9, from noon to 2 p.m. at Mujeres Brew House in Logan Heights.
Our judges selected two talented student journalists who have a passion for journalism and covering the Latino community. We are giving out $3,000 worth of scholarships to these young students thanks to the generous donations by our chapter members, journalism community and The San Diego Union-Tribune.
There will be food, drinks, professional headshots, an area for group pictures, and networking opportunities at the event. Award-winning journalist Jean Guerrero will give a keynote speech.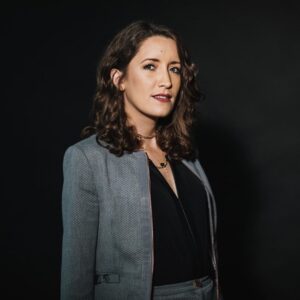 Guerrero is currently a columnist at The Los Angeles Times and author of "Hatemonger: Stephen Miller, Donald Trump and the White Nationalist Agenda" and "Crux: A Cross-Border Memoir." Among her many accolades is the San Diego Pro Chapter of the Society of Professional Journalists 2019's "Journalist of the Year." Jean has also been named one of the California Chicano News Media Association's most influential Latina journalists in the region.
Fox 5 reporter and chapter VP Samantha Rivera will be our host. Rivera is a bilingual sports journalist who covers everything from the Padres to the Chargers/Rams, and everything in between.
Our scholarship winners are San Diego State University journalism students Karina Bazarte and Ana Paola Olvera. Join us in honoring these talented young journalists!
Proceeds from the event will go toward funding next year's scholarship program. Thank you for your continued support.
What you will get when you attend:
• Event admission with 1 FREE beer or soda and (2) delicious tacos
• Opportunity to network and connect with fellow student journalists and industry professionals
• A complimentary headshot
• A chance to purchase NAHJ San Diego-Tijuana swag
Ticket Pricing:
• Student: $25
• Member: $35
• Early bird: $40 (Sept. 9-24)
• Last call: $50 (Sept. 25- Oct. 9)
To join NAHJ click here. And choose "San Diego Pro" as your chapter when filling out your membership form.
Where and when:
• Mujeres Brewhouse 1983 Julian Avenue, San Diego, Calif. 92113
• Saturday, Oct. 9, noon to 2 p.m.
Get your tickets NOW to secure your place.
Please note: For everyone's safety, we ask that our guests stay home if they are waiting on the results of a COVID-19 test, have been exposed or are not feeling well at the time of the event. We will follow county guidelines and only require proof of vaccination and masks, if they are mandated at the time of the event. This will be an outdoor gathering.